Growing Kids Sale T-shirts have been a big hit over the past few years, and have become quite the collectible item, because once the sale is over, you can no longer get the shirt from that particular sale! Our consignors love knowing they have the shirt from every sale they've participated in!

For each sale, there will be a new t-shirt color, dated for that season! A limited quanitity of t-shirts are made available for FREE to those who spend $200 or more at a Growing Kids Presale, while supplies last. By popular demand, we are now making them available to pre-order and pick-up at the sale!


Online t-shirt ordering will be available until:
Sunday, August 15th, 10pm
Don't miss your opportunity to pre-order!

Here are the details!
1. Sizes available are Adult Small/Medium/Large/X-Large/XX-Large/XXX-Large.
2. Cost is $10 each, with the exception of adult sizes XXL and XXXL, which are $12 each.
3. Payment must be made via Paypal. Just choose the size you want and click the "Add to Cart" button below, which will take you to Paypal's secured website to pay for your shirt(s).
4. You may pick-up your pre-ordered t-shirt at the sale drop-offs, or when you come to shop! Just bring your Paypal receipt and tell a GKS Staff member or cashier that you've pre-paid for a t-shirt.
NOTE: T-shirts must be picked up during the sale. Growing Kids is not responsible to distribute or mail any un-claimed shirts.
Fall 2021 T-Shirt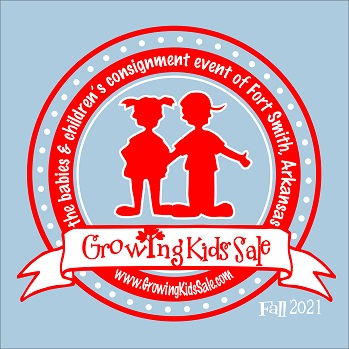 FALL 2021 T-SHIRT!
Sky Blue Shirt with
Red Lettering

Deadline to Pre-Order:
Sun, Aug 15th, 10pm
Fall 2021 t-shirts are no longer available for pre-order. They will be available at the sale for free to those who spend $200 or more, or for purchase at $10 each, while supplies last (they go fast!).